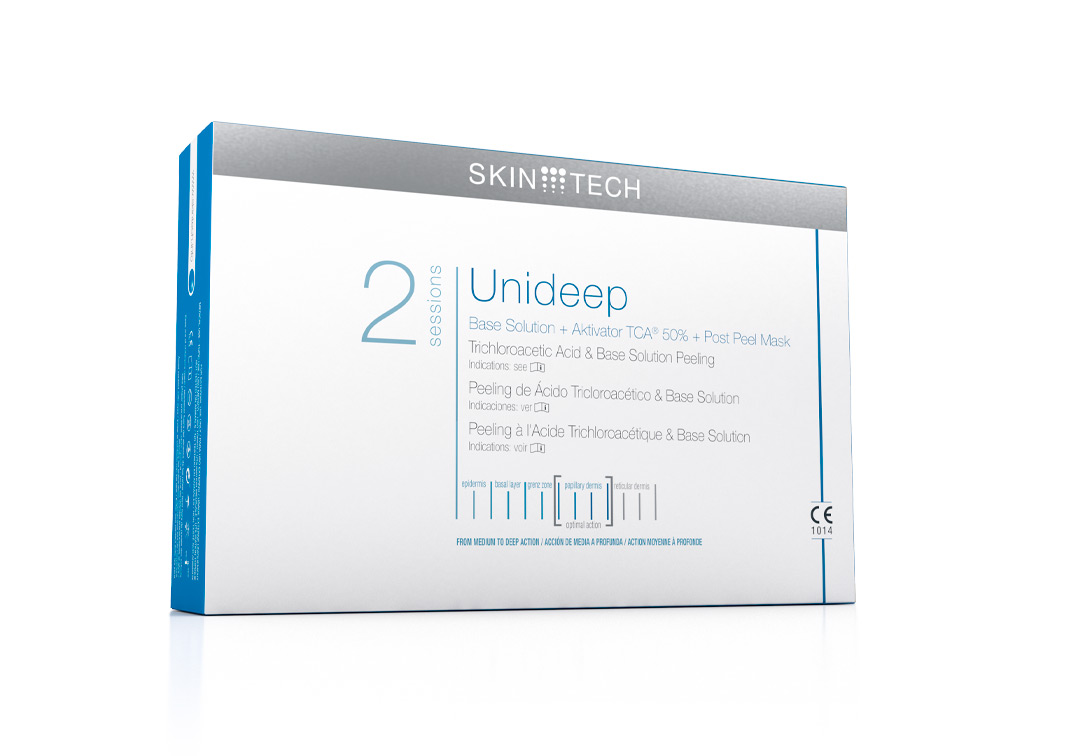 ×
 2 Sessions
1 vial 4 mL Base Solution
1 vial 3,2 mL Aktivator TCA® 50%
2 tubes 10 mL Post Peel Mask
Unideep is a saponified and stabilised medium depth TCA peel targeted to reach a dermo-epidermal regerneration.
Unideep is suitable for patients who desire quick results with few sideeffects.
Quick Result
Flexible treatment
Down time 6-7 days
No age limitation
Phototypes 1 to 3 (Phototypes 4-5: prepeel conditioning for 3 weeks)
This product is for the exclusive use by medical specialists in plastic aesthetic or restorative surgery, by specialists in medical and surgical dermatology and venereology, and M.D.s with postgraduate training in aesthetics.
Photo-aging and its consequences, acne scars
Dermo-epidermal stimulation
Pigmentation problems (melasma, chloasma, post inflammatory hyperpigmentation),
Freckles
Dry skin
Ichthyosis
Wrinkles
Keratosis and lentigines
Treatment areas: Local or full face
Base Solution to be mixed with Aktivator TCA® 50% for reconstituting a peeling solution of 25% TCA.
Unideep is designated specifically for a depth 5/7 (papillary dermis)