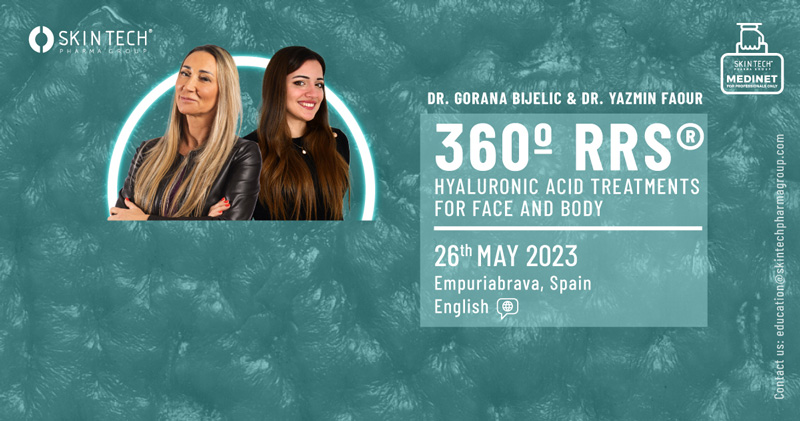 We are thrilled to invite you to our upcoming workshop on 360º – RRS® Hyaluronic Acid Treatments for Face and Body that will take place in our facilities in Spain on Friday May 26th !
Join us for a comprehensive training session where you will learn the latest advances in hyaluronic acid treatments and techniques.
During the workshop, our experienced international trainer Dr Gorana Bijelic will guide you through the science behind hyaluronic acid, the benefits of its use in aesthetic treatments, and the latest techniques for administering treatments to the face and body. You will learn how to assess patients' needs, select the appropriate RRS® hyaluronic acid product, and customize treatment plans based on individual patient goals.
In addition, you will gain insights into the benefits of 360º treatment, which is a comprehensive approach that addresses all aspects of facial and body rejuvenation. You'll learn how to use RRS® hyaluronic acid based treatments to achieve natural-looking, long-lasting results that your patients will love.
Our workshop is designed for aesthetic practitioners at all skill levels, whether you are just starting out or are an experienced professional.
Don't miss out on this opportunity to enhance your skills and grow your practice. Register now to secure your spot in our 360º – RRS® Hyaluronic Acid Treatments for Face and Body workshop!